NanoCrystal Paint Protection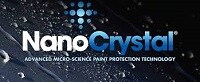 Nano-technology delivers a whole new level of paint protection. Paint technology has advanced significantly over the years and so have the number of environmental hazards that can destroy your vehicle`s finish. Even as your new vehicle rolls off the assembly line, the paint finish is not protected against the elements. 
Superior painted surface protection technology in a two-coating application utilizing Nano-Molecular science to increase the density of the surface application by literally billions. 
Diamond Kote NanoCrystal Paint Protection is a unique transparent cross-link polymer formulation featuring durable fluoro polymer additives and ultraviolet filters. Our Paint Protection bonds to the painted surface in a continuous film that acts as a sacrificial barrier between the paint and the destructive elements your vehicle faces every day.