Dodge Ram Trucks For Sale Near Sarnia
Dodge Ram Trucks For Sale Near Sarnia
"Our Reputation is Your Guarantee."
Hard work is something you're very familiar with. In fact, whether it's what you grew up with or it's part of your everyday life to this very day, it's part of what defines you, down to your very core. You recognize when someone doesn't carry their own weight, or see straight through those that don't see the true value of a job well done. So when it comes to choosing the right truck for the job, you can tell which ones are built to keep up with you, and which ones are all show and no substance. And that's what you need, the kind of Dodge Ram truck for sale near Sarnia that can face the toughest conditions you need it for and take it all in stride, ready to keep at it, day after day. Find your next truck by visiting Dale Wurfel Chrysler today!
Dodge RAM trucks have the proven capability, durability, and reliability to tackle real-world work. Champions of the likes of the 2017 Canadian Truck King Challenge, which tests trucks from across all brands in a series of grueling categories that include off-road capability, towing capacity, interior comfort, fuel economy and more, RAM pickups dominated this year's competition-the RAM 2500 claiming victory in the ¾-ton category for its second consecutive year, and the RAM 1500 taking the crown as overall winner for its third year (2014, 2016, and 2017)! With the award-winning supremacy at your side near Sarnia, next to nothing will be able to stop you.
Muscle is one thing, but can it go the distance? Look no further than the numbers-collecting sales data for all light-duty trucks sold in the past 28 years, you'll find that no less than 81% of light-duty RAM pickups are still going strong to this day! Look at the same for Ford and GMC, which fall at 70%, and Chevy at 68%, and the difference is clear. The same goes for RAM's big brothers-in the past 23 years, of all heavy-duty trucks sold, an astounding 85% of heavy-duty RAMs are still on the road today! With the competition falling short yet again (GMC 83%, Chevy 79%, and Ford 69%), RAM tops the charts again. As Canada's longest-lasting line of pickups, you can rest assured your Dodge RAM truck for sale near Sarnia is in it with you for a long, long time.
Over 4 Decades of Superior Service
Find the effective team you deserve at our store!
Community Driven and Supporter of the Community
From charity involvement to supporting local hospitals - we're here to make a
difference!
Bird Dog Rewards Program
Rewards yourself and those you love by bringing them to Daly Wurfel Chrysler!
Why Choose Dale Wurfel Chrysler RAM 1500 - Power of the HEMI
Just what kind of power did the RAM 1500 have under the hood to dominate the 2017 Truck King Challenge? Equipped with the power of the legendary 5.7L HEMI® VVT V8 engine, Canada's Best-Selling V8, the RAM 1500 packs an astounding 395 horsepower, incredible 410 lb-ft of torque, and an exceptional max towing capacity of up to 4,826kg (10,640lb)!
Book your test drive for any Dodge Ram truck for sale near Sarnia with Dale Wurfel Chrysler today and find out what it feels like to be behind the wheel of true award-winning power!
The Best-in-Class Dodge RAM Trucks for Sale near Sarnia
The RAM 2500 defines what a heavy-duty truck should be. It sports the bold and iconic Dodge exterior design, offers interior comfort and convenience, and is the best at what matters most-force the road into submission with Best-in-Class gas engine horsepower, haul trainloads of cargo with Best-in-Class ¾-ton gas engine towing of up to 16,320 lb (7,403 kg), and enjoy the savings and convenience of Best-in-Class recommended oil change intervals of up to 24,000 km!
The only question is: Are you ready for a Dodge Ram truck? Because the RAM 2500 sure is.
RAM 3500 - The Torque King
The Dodge RAM 3500 exemplifies the best of modern heavy-duty trucks. Not only does it have the durability to keep going after years of facing punishing conditions, it has an amazing payload capacity of up to 3,352 kg (7,390 lb), and the muscle to haul up to an unbelievable max towing capacity of 14,157 kg (31,210 lb) by virtue of its incredibly massive 900 lb-ft of torque!
Eager to find out what that kind of power feels like? Test-drive one of our great Dodge RAM trucks for sale near Sarnia with Dale Wurfel Chrysler today! RAM 1500 - Fuel Efficiency Like Never Before
The increasing importance of fuel efficiency hasn't gone unnoticed by Dodge Ram truck engineers. Their main goal was to provide the same uncompromising power as the regular RAM 1500, while offering much better fuel economy than is expected of pickups. The result? The Class-Exclusive 3.0L EcoDiesel V6 engine, which not only packs 420 lb-ft of torque achieved at an surprisingly low 2,000 rpm, but does so while keeping fuel economy levels as efficient as 8.0 L/100 km (35 mpg)! This makes the RAM 1500 the most fuel-efficient full-size pickup-ever!
---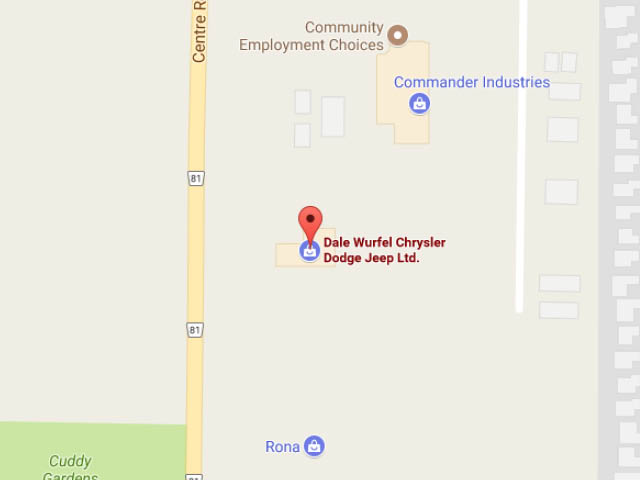 The team at Dale Wurfel Chrysler has a vision. It's one that began years ago and has continued to expand and improve as we continue to find more effective ways to treat our customers and our community with the respect and the integrity that puts you into the right vehicle. We believe in building a lasting relationship that is set on a foundation of trust and continued reliability that adds peace-of-mind to your days. With effective departments and a team of professionals who are eager to assist you, we're sure you're going to find a better dealership experience waiting for you at our store. Take a moment to review our inventory and facilities online and let us work for you when you have a specific idea, vehicle, or request in mind. Located conveniently at 28478 Centre Rd, in beautiful Strathroy, ON, we're here for you every step of the way. Reach out to us if you have any questions at (519)
245-2550.
---
Our Customers Love Us
Dale Wurfel is a two thumbs up type of dealership. Dale Wurfel's dealership is
one of the best I've went to. Their new facility is a class above and their team is absolutely incredible! I
worked with the salesman AJ there. He is incredible, he truly makes you feel like you're truly important and
made deciding which type of vehicle was for me a breeze! I highly recommend doing business here, can't wait to
make my next car purchase!
Cody M.
I would highly recommend Dale Wurfel (Chrysler, Dodge and Jeep). I had great
experiences, privilege, to get to know a wonderful sales consultant Danielle Jazey. She did everything in her
power to make my goal, and dreams happen to purchase a 2017 Dodge Ram 1500 Ignition Orange. I would also like to
thank Jackie for making the financing quick and easy! Thank you again to the Dale Wurfel team! I myself, friends
and family will be back to purchase a vehicle.
Nicole De V.
When it was time for a new vehicle we contacted Ryan King at Dale Wurfel. He
knew exactly what we needed. We are very pleased with our Journey Crossroad. He worked very hard to get us the
best deal possible with a very professional and positive approach. I would recommend Ryan to anyone and
everyone.
When it came time for Service that team was awesome as well. They always pay attention to
details.
One last comment - Sarah makes great cookies !!!
Joan and Steven C.