Dodge Ram Dealership Near London
Dodge Ram Dealership Near London
"Our Reputation is Your Guarantee."
True quality isn't just something you can see with the naked eye-it's something you can feel. The refined edges of an expertly handcrafted piece of work, a smooth finish, intricate design that holds up to a beating, all examples of quality you can sense by touch. Vehicles very much fall under the same scrutiny. Flashy billboards and edgy TV commercials can certainly catch the eye, but the real test comes when you try it out for yourself. So which brand does best at holding their own against real world challenges?
None other than Dodge RAM trucks.
RAM quality shines through the decades as Canada's longest-lasting line of pickups, counting both light- and heavy-duty truck models. Proof is plainly shown in the numbers: of all light-duty trucks sold in the past 28 years, RAM sits at the very top with 81% of them still being on the road to this day. With Ford and GMC falling short at 70%, and Chevy at 68%, the winner is clear. The same is true for RAM heavy-duty, at an impressive 85% still going strong after 23 years. Compared to GMC (83%), Chevy (79%) and Ford (69%), RAM heavy-duty still takes the crown. That's durability you can count on-a RAM is with you for the long haul.
So where does capability comes into play? Tackling real-world challenges is what RAM does best. Simply look at the results of the 2017 Canadian Truck King Challenge, the toughest pickup competition in Canada, pitting trucks from across all brands against each other in over 20 grueling categories: the RAM 2500 secured victory in the ¾-ton category for its second year in a row, and the RAM 1500 emerged as the overall champion for its 3rd time! That's power that proves its mettle time and again. Don't settle for less-make your next truck a Dodge RAM!
Still not sure? We are confident you'll erase any doubt from your mind once you get in the driver's seat of a Dodge RAM and feel that quality first-hand. Book your test drive today with Dale Wurfel Chrysler in Strathroy, just a short stop away from London, Ontario!
---
Why Choose Dale Wurfel Chrysler
Making Service Appointments Easy and Convenient
Having your vehicle services can be a serious inconvenience, especially if you need it for work or you have a family to take care of. At Dale Wurfel Chrysler, we understand that, and strive to make the process as easy and stress-free as possible for you, with complimentary services that include free shuttle service, vehicle pickup and delivery (within 20 kms), free WiFi access, a massage chair for your ultimate comfort, drinks and snacks to enjoy while you wait, as well as children's toys and an iPad full of kid's games.
Come to Dale Wurfel Chrysler, where we treat you like family! Bird Dog Rewards Program
Word of mouth is a powerful thing, and we at Dale Wurfel Chrysler recognize the real value of recommending our dealership to friends, family and co-workers. That's why we offer the Bird Dog Rewards Program, where as a member you can earn extra cash for each successful referral-cash you get to spend however you wish, whether with us on a vehicle payment or new vehicle purchase, or anything else ranging from personal expenses to saving it up for a vacation, it's yours to keep
Contact Dale Wurfel Chrysler today for more information on becoming a member!
Treating You Like Part of the Team
At Dale Wurfel Chrysler, we built our dealership based on the belief that a company is only as good as its people. In following that core belief, we have developed a team of friendly professionals who not only treat each other like family, but most importantly, treat you as one of our own. That means you enjoy the kind of warm, small town customer service you can expect from a community-oriented dealership that strives to provide complete satisfaction.
Get the Dodge RAM You Dream About
As amazing as a Dodge RAM is on its own, you can personalize it to your specifications to make it even better-your ideal RAM that perfectly fits your lifestyle needs. Choose from a myriad of available features to customize your new RAM truck, and our skilled parts and service teams will endeavour to prepare and install them for you. In no time, you'll be driving away in that personalized Dodge RAM you've always dreamed of!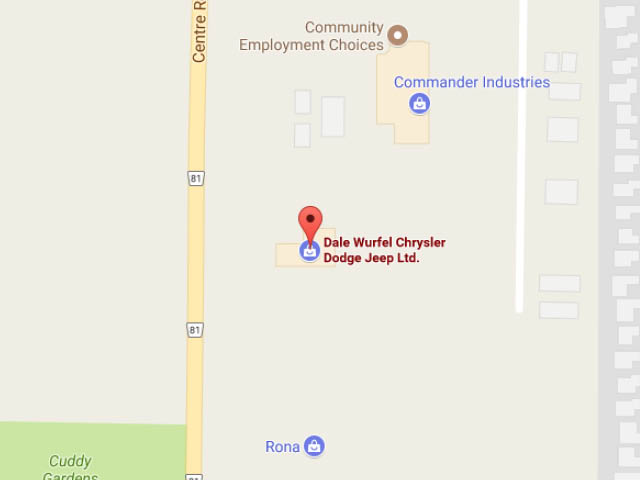 The team at Dale Wurfel Chrysler has a vision. It's one that began years ago and has continued to expand and improve as we continue to find more effective ways to treat our customers and our community with the respect and the integrity that puts you into the right vehicle. We believe in building a lasting relationship that is set on a foundation of trust and continued reliability that adds peace-of-mind to your days. With effective departments and a team of professionals who are eager to assist you, we're sure you're going to find a better dealership experience waiting for you at our store. Take a moment to review our inventory and facilities online and let us work for you when you have a specific idea, vehicle, or request in mind. Located conveniently at 28478 Centre Rd, in beautiful Strathroy, ON, we're here for you every step of the way. Reach out to us if you have any questions at (519) 245-2550.
---
Our Customers Love Us
Dale Wurfel is a two thumbs up type of dealership. Dale Wurfel's dealership
is one of the best I've went to. Their new facility is a class above and their team is absolutely incredible!
I worked with the salesman AJ there. He is incredible, he truly makes you feel like you're truly important and
made deciding which type of vehicle was for me a breeze! I highly recommend doing business here, can't wait to
make my next car purchase!
Cody M.
I would highly recommend Dale Wurfel (Chrysler, Dodge and Jeep). I had great
experiences, privilege, to get to know a wonderful sales consultant Danielle Jazey. She did everything in her
power to make my goal, and dreams happen to purchase a 2017 Dodge Ram 1500 Ignition Orange. I would also like
to thank Jackie for making the financing quick and easy! Thank you again to the Dale Wurfel team! I myself,
friends and family will be back to purchase a vehicle.
Nicole De V.
When it was time for a new vehicle we contacted Ryan King at Dale Wurfel. He
knew exactly what we needed. We are very pleased with our Journey Crossroad. He worked very hard to get us the
best deal possible with a very professional and positive approach. I would recommend Ryan to anyone and
everyone.
When it came time for Service that team was awesome as well. They always pay attention to
details.
One last comment - Sarah makes great cookies !!!
Joan and Steven C.